You want to carry your baby? Good idea! And now, of course, you're wondering what's the best way to do it. Which is the best carrier for you and your baby is your own personal decision, because many factors play a role in carrying. And every baby carrier has its advantages! Today we're going to help you decide whether the manduca comfort carrier or the elastic manduca sling is more suitable for you.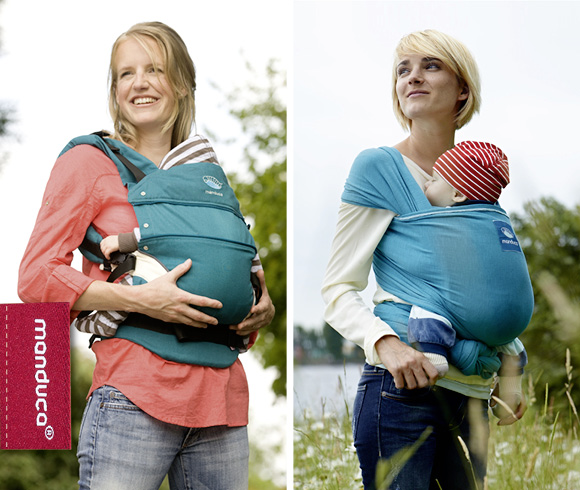 Baby carrier or baby sling - only you decide!
With both manduca carriers you can carry your baby ergonomically, i.e. in the M-position and with a well-supported back. The important thing is that you feel comfortable with the carrier of your choice. Everything has to be right: Ergonomics, comfort, safety and also the look. After all, you will only wear it often if it suits you and is comfortable for both of you. The best carrier and the coolest design are no good if the carrier is just lying in the cupboard.
That's why it's best to try out the carrier with your baby at your leisure. You can go to a specialist shop and get advice or ask your midwife to show you stretchers and slings. Some shops even offer a rental service, with a rental fee that is later deducted from the purchase price.
Carrier or sling? The crucial question(s)
The answers to the following questions will give you some guidance in your choice:
Who should carry the baby?
Just you – or also your partner or a babysitter? With its
one-size-fits-all
design, the elastic
manduca sling
fits both large and small carriers – it is long enough for the long ones and has tapered ends so that there is not too much fabric left over for small carriers. The
manduca also fits big and small carriers
– thanks to the many adjustment options. The hip belt can be adjusted to fit hips up to 140 cm. And there is even a hip belt extension if that is not enough.  Tip: A neutral coloured sling or sling goes with every outfit and (almost) every type of sling.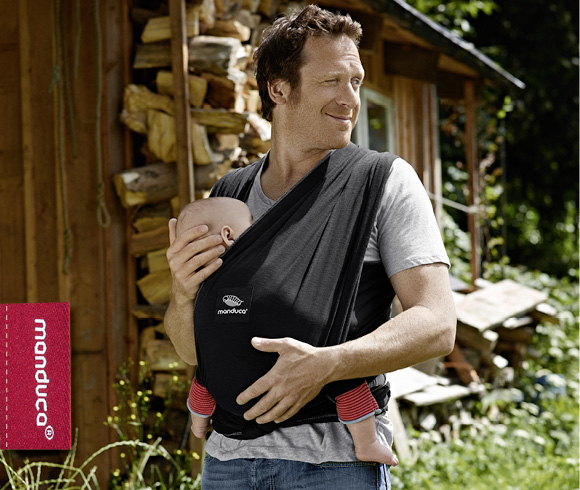 Where and when do you want to use the carrier?
As a sleeping aid, for household chores, for shopping, on holiday? When travelling, every gram counts and so does the volume. The manduca sling at 540 g and the manduca baby carrier at 680 g are both wonderfully light and easy to store. A sling can be used in many ways on holiday – also as a blanket, shade and rolled up as a small cushion or pillow.
Is your baby over 6 months old or do you have a newborn? You like to carry a tiny newborn snuggled up against you all the time – with the cuddly manduca sling you can hold it in front of your tummy so that it is securely tied and you have a good view of its face. As the baby grows, the hip sling gives you more freedom of movement.
For a large baby over 9 kg, a manduca baby carrier makes more sense than a manduca sling, e.g. with the manduca comfort carrier you can also carry him on your back where he can see something. It is more comfortable for you with a heavy baby than in front of your stomach, and you also have more arm room.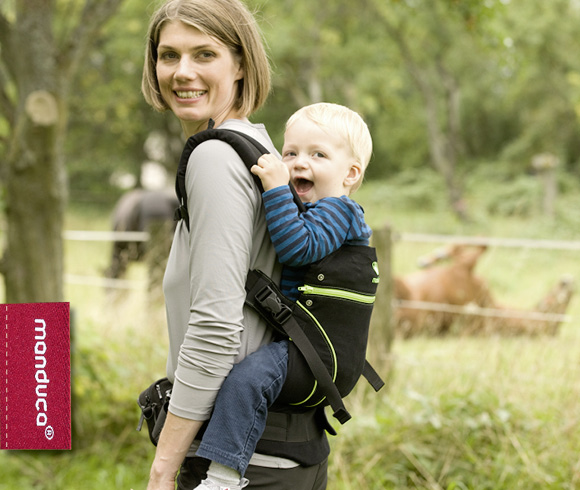 Do you want to carry quickly?
Each cloth must be well tied: When putting on the sling, it is important to pull all the sling strands tightly and, of course, to knot the ends. With a little practice, this is not a big deal, but if you just don't feel like tying knots, a comfort carrier is probably more your cup of tea. Or try the pre-tied version with the elastic manduca sling, then you can take your child out and put him back in again as often as you like.
How long can you use the carrier?
The elastic manduca sling is wonderfully cosy for newborns and small babies, but has a limited period of use. The manduca sling is most comfortable up to around 9 kg.
With your manduca you can even carry toddlers up to 20 kg – depending on how carrying trained you are and what distances can be covered. The weight is transferred to the hips. Tip: for larger children, you can extend the manduca bar with the manduca ExTend. And for very small babies, the manduca offers an integrated seat reducer.
Do you like to play it safe?
Then you will certainly enjoy the three-point safety buckle of the manduca baby carrier. This buckle can only be released if three points are pressed at the same time.
Is your back sufficiently relieved?
With a comfort carrier, the name says it all: the soft padded shoulder straps and the padded hip belt of the manduca offer carrying comfort even on long journeys.
Whichever you choose, the manduca baby carrier, the manduca sling or both – you will benefit from the advantages of carrying in any case.