"What are you wearing in these temperatures now? We're wearing a wooly walk overall!"
When I read this in a Facebook wearing group a few days ago, I had to smile. And my fingers itched to write that I NEVER wore a wooly walk overall when I carried my child
.
But yes, with every change of season it comes again, the clothing question for the babywearing team. Now it's the beginning of spring, the sun is shining, everything is starting to turn green and blossom, the winter boots are packed away and also the thick winter jacket. But what about wearing clothes in spring? What is the right clothing for my child? And for me?
Spring: from cool to hot, everything is possible!
Spring has a lot to offer in this country – from wintry temperatures to summer heat. Especially on warm days, it can get chilly from one minute to the next as soon as the sun disappears. The conditions for you and your child are quite different: if you carry your child in spring, you may get warm quickly. But your baby carrier does not move and therefore continues to cool down quickly. The clothes you and your child wear should be flexible accordingly.
Perfect for me when carrying a baby: a carrying vest
For me, a waistcoat was always the ideal combination in spring. It kept my child warm but left my arms free of air. If I felt that my child was getting warm too, I could open the waistcoat. I especially liked our manduca by MaM Two-Way Deluxe Jacket because you can zip the sleeves on and off. So if you get warm on the go, just zip off the sleeves, put them in your pocket (and if you didn't have a pocket with you, just put them in the generous jacket pockets) and you're less warm. Zipping on the sleeves WITH the baby required a little more agility and skill, although it works well when the baby is carried on the back. And that's the great thing about the Two-Way Deluxe jacket: I can wear it on the front or the back, or even without a baby
 . For me, as a fan of carrying on the back, this was a sensible solution, especially as I can also support the child's neck well with this jacket, which is enormously important when the child falls asleep. Unfortunately, you can't usually use the headrest of the baby carrier.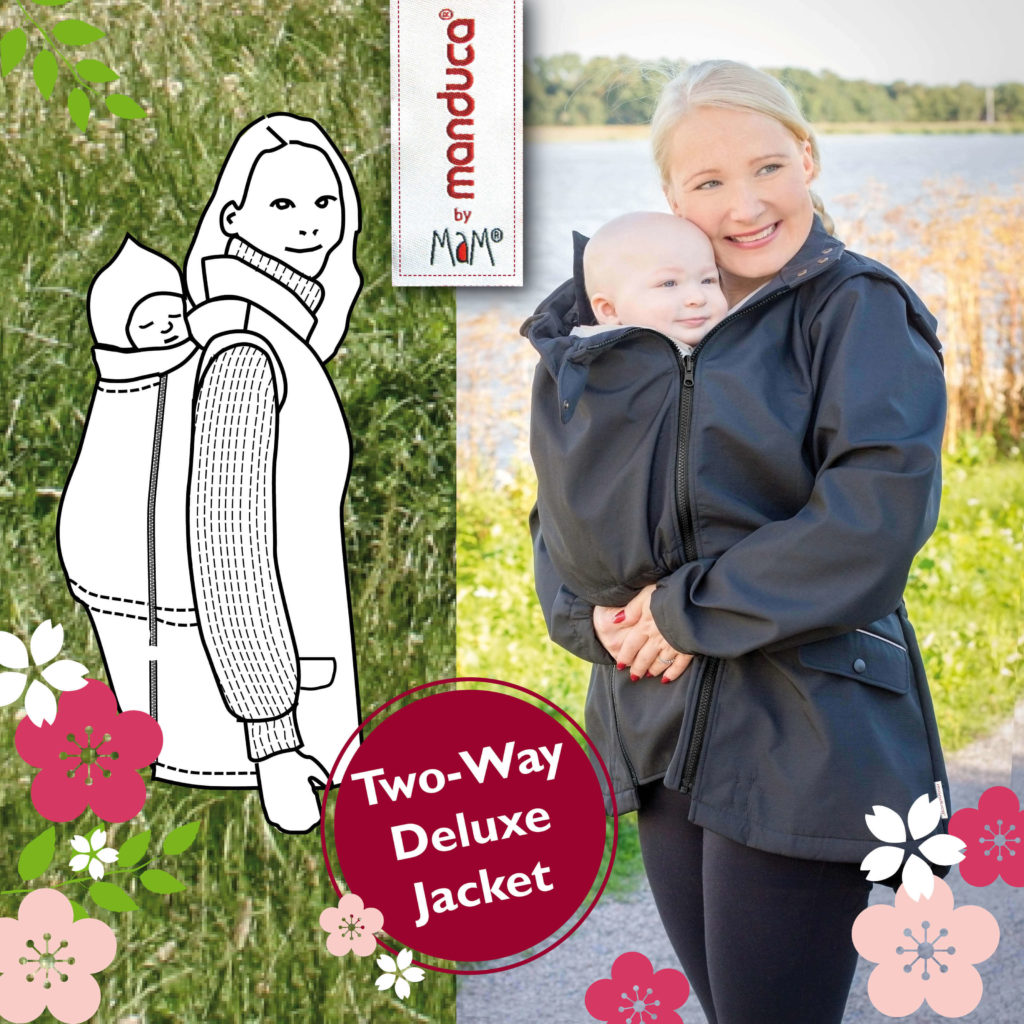 And what do I wear with the baby carrier? Is the wooly walk overall a must?
Depending on the outside temperature, the baby needs a warming cover in addition to its normal clothing. Legs, arms and the head cool down particularly quickly. For this purpose, there are carrying covers in different variations, warmly lined or thin as wind and rain protection. And they can even be rolled down so that you can decide for yourself how high up on the child the cover reaches (Deluxe FLeX cover). I can wear a cover in the front (and thus still put on my own jacket/vest over it), or I use it for back carrying OVER my own clothes. Also a super practical thing, especially if you want to be flexible and more than one person is carrying the child. Please always check the temperature of your baby's neck: it should be warm, but not sweaty.
Of course, the wooly walk overall mentioned at the beginning is also a warm and good option for the child. Wool in particular has the positive material property of being temperature regulating and also of keeping off a little drizzle (if the natural lanolin is also added back to the woollen overall after washing).
But for me, a wooly walk overall would not really be an option