The manduca baby carrier has an integrated seat reducer – or newborn insert, as many of you call the seat reducer. The big advantage is that you can use it to carry your baby from birth. You just have to know how to use it properly. This is where I (Dunja), as a babywearing consultant, can help!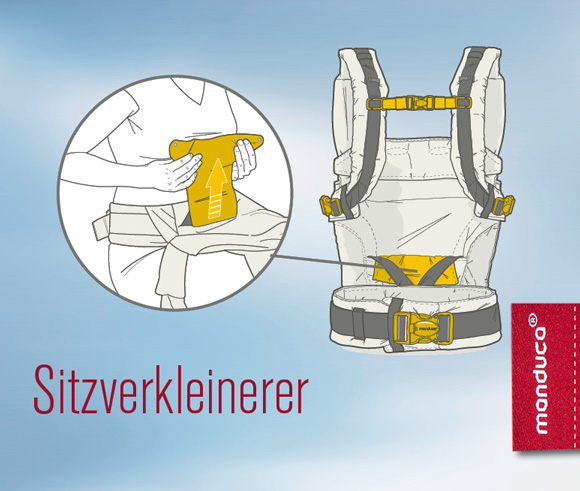 manduca seat reducer - many questions about the newborn insert
You always hear different opinions about the integrated newborn insert in the manduca: You don't need it, you shouldn't use it or you shouldn't even use it. Which is correct, because we as the manufacturer of the manduca baby carrier recommend the use and show it in our manduca instructions?
As a long-time (really very long-time) babywearing consultant, I have been in contact with the most diverse babywearing schools for many years, always stay up to date thanks to numerous further training courses and am present at every babywearing conference in my function as a conference advisor for manduca. So I always have my finger on the pulse of the (babywearing) times.
I use the opportunity to talk to experts as often as possible and ask for their opinions on the use of newborns. First of all, there is no real science of babywearing. But there are orthopaedists and physiotherapists who can certainly assess the child's leg position. And they say that the newborn insert can of course be used if …. it is used correctly.
The be-all and end-all of seat reducers: the little feet grow out of the carrier
What I observe again and again, even with my fellow babywearing advisors, is that the baby's feet remain inside the carrier for far too long when the insert is used. So at some point the feet "stand up" and there can actually be pressure on the joints. Yet it says on page 2 of the manduca instructions that only the feet of very small babies remain inside the carrier and that the feet and legs then gradually grow out. And by very small babies we mean the very small ones. That is, babies who have just been born and already fit into the manduca (from 3.5 kg).
But very quickly the little legs grow, and so more and more of the manduca protrudes: first the tip of the foot, then the whole foot, a piece of the calf, half the calf … until finally the whole lower leg protrudes, and the bar of the manduca reaches from the back of your child's knee to the other back of the knee. Then your child fits into the manduca baby carrier without the insert and you can store the insert in the rubber pockets provided (where it then waits for the next sibling).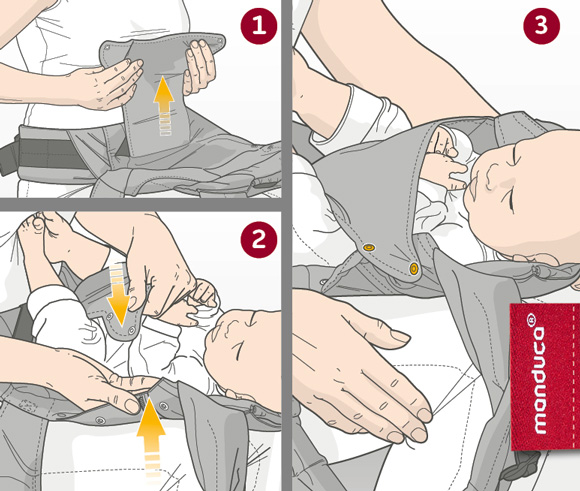 The Size-It: an alternative to the seat reducer
Alternatively, you can of course use our Size-It instead of the insert. In this case, the lower legs and feet look out of the carrier from the beginning. However, I think that very small babies (newborns) are better off in the insert. That's why I don't share the opinion of some of my fellow babywearing advisors that you should always wear the Size-It. As is so often the case, you have to look at it individually and decide
Do you have a question for me? Drop me a line at beratung@manduca.de. Wearing photos (side and frontal) make it easier to understand the problem and identify the solution